Website Design and Branding

Website Design Services
The website design has to be great to look at but also intuitive. The website design on our websites is referred to as the Theme. All our themes are now responsive for display on mobiles.
Without one it would be black text on a white background. There would be no style to it at all. So this is the process we go through with people regarding designing a custom website theme:
We often ask for some example websites that you love the look of.
Our Graphic Designer will discuss in more detail with you what you want the website to project.
From there he will make some mockups that can be developed once they have some feedback.
When you're happy with the mockup our website developers can make it into a functional website
Here is our own website before adding much style to our Drupal theme: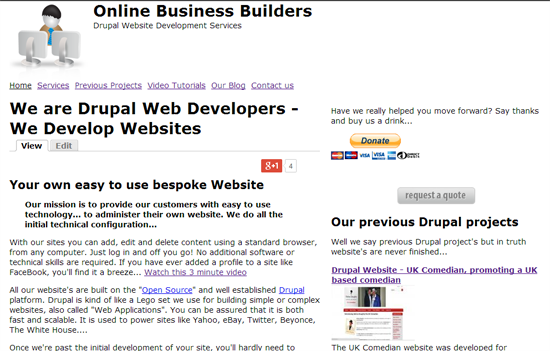 All the sites listed in the portfolio section have been designed by us. There are no limitations to what we can design in terms of a websites appearance.
General Branding
Our Graphic Designers aren't only great at website design - they love doing artwork generally. Examples to date have been event flyers, business cards, logo's, menus and physical shops to name a few. We also work with printing companies, so we could also arrange it all as well.